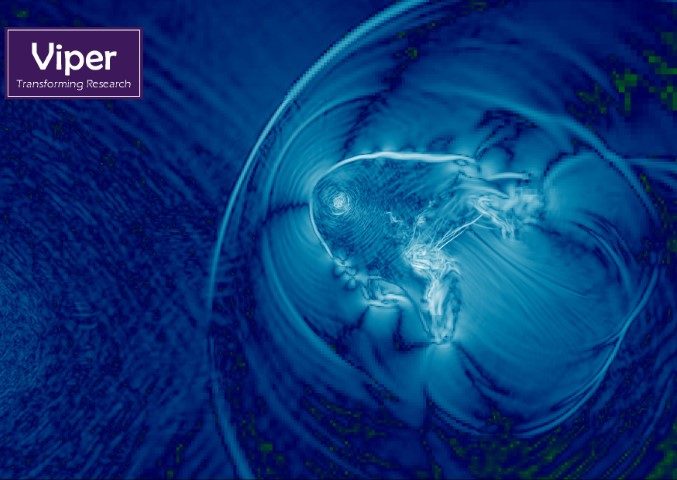 Using Viper, we produced three tailored simulations for the galaxy cluster merger between the Fornax Cluster and the giant elliptical galaxy NGC 1404. Alongside our international collaborators, we are able to compare our simulations to real observations of the merger to understand the recent growth history of the cluster and make predictions.
As the galaxy moves through the galaxy cluster, the atmosphere of the galaxy encounters the hot cluster atmosphere. The image shows the galaxy during an early stage of the merger and highlights locations of strong shear, where the gas atmospheres of the galaxy and the cluster slip over each other. Analysing the evolution of properties such as the shear allows us to understand flow patterns during the merger.
The simulation this image was taken from took 648 hours on 14 computing cores (20 nodes), totalling 9072 CPU hours.
For further information:
We recently had a paper detailing this work accepted for publication in The Astrophysical Journal, "The Recent Growth History of the Fornax Cluster Derived from Simultaneous Sloshing and Gas Stripping: Simulating the Infall of NGC 1404" by Alex Sheardown, Elke Roediger, Yuanyuan Su, Ralph P.Kraft, Thomas Fish, John A. Zuhone, William R. Forman, Christine Jones, Eugene Churazov, Paul E.J. Nulsen
---